Home » Tree Disease Treatments »
Emerald Ash Borers Treatment in Grapevine, TX.
Emerald Ash Borers are a deadly threat to ash trees in the United States and are destroying ash trees in Grapevine! Tree experts are aggressively battling this lethal insect because this jewel-green beetle kills an ash tree in less than two years and over 200 million ash trees in North America have died due to its infiltration. Emerald Ash Borers only target green, white, or black ash trees and do not infest any other tree variety. They destroy the means by which the tree supplies nutrients and water throughout its system, rendering the tree in an overall sickly state. It is of the utmost importance to contact a tree care specialist immediately when you observe your ash tree's health is waning or notice green beetles on your property! Emerald Ash Borers Treatment in Grapevine, TX, call (817) 968-1441 for an Emerald Ash Borers diagnosing!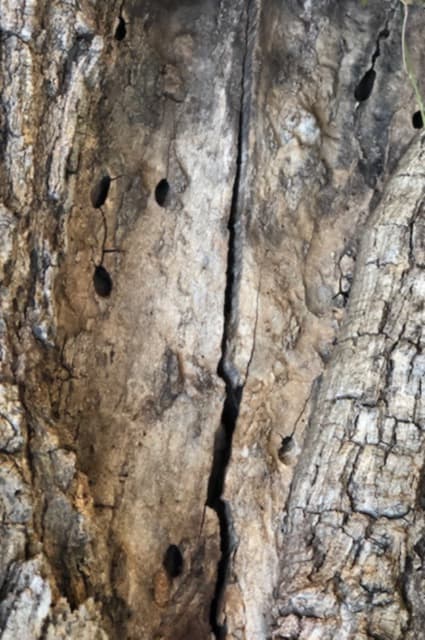 Emerald Ash Borers Treatment? Call Arbor Care Experts of Grapevine!
Diagnosing Emerald Ash Borers Disease
Due to the serious consequences of Emerald Ash Borer infestation, a tree evaluation report is swiftly completed by an experienced plant pathologist after closely examining the tree and investigating the habitat grounds. A thinning canopy, premature foliage loss and D-shaped holes in the bark where the beetles entered the tree are indicative of the insect's presence. Obvious woodpecker activity and the Emerald Ash Borer's cited on the outdoor habitat grounds are further confirmation of infestation. Upon studying the diagnosis report, the Grapevine tree doctor determines the immediate treatment required and customizes the continual maintenance care necessary to eliminate the threat of Emerald Ash Borer annihilation.
Treatment Of Emerald Ash Borers
The immediate removal and destruction of infested trees, ground debris, and old ash firewood by an experienced tree company prevent the spread of these deadly beetles. Maintaining the tree's health is key to warding off insect invaders and diseases. Deep root fertilization administered by a certified arborist boosts the tree's root structure and immunity and is so effective that a one year warranty on any treatment is provided. Insecticide treatments administered via trunk injections by an arborist that treats sick trees halts the beetle's reproduction. Protect your stately, eye-catching ash trees from Emerald Ash Borer destruction by entrusting the care of your residential outdoor environment to the best arborist in Grapevine, Texas! If you have Emerald Ash Borers on your property, call (817) 968-1441 for a free consultation from a certified arborist in Grapevine, TX.
Updated on January 14, 2019, at 11:30 AM by Arbor Care Experts of Grapevine.